About Eramet Marietta
Chances are you've never heard of Eramet Marietta, Inc., but you've undoubtedly benefited from our products. The guardrails that keep you safe on the highway, ovens that cook your food, pipes that transport your natural gas, rail tracks that shuttle you into the city and cars that get you home at night are all made safer, stronger and lighter thanks to manganese.
Noted on the periodic table of elements as Mn, manganese is found naturally in the earth as an ore as well as in foods such as mustard, kale, chard and even raspberries. It is essential for good nutrition – as well as good steelmaking! In steel, manganese increases: tensile strength, toughness, stiffness, wear resistance and hardenability – all properties that improve building product technology, efficiency and safety.
Eramet Marietta imports its manganese ore from a mine in Gabon, Africa, which is operated by Eramet Comilog, a sister company also owned by Paris-based Eramet Group. The ore is barged to the Marietta, Ohio State Rt. 7 facility on the Ohio River and off-loaded a short distance from the plant. Once at our facility, the ore is processed into either ferromanganese or silicomanganese through a melting, "smelting" and refining process in one of Eramet Marietta's  electric arc furnaces and oxygen refining unit. Once the product is manufactured, it is cooled and then sent to our on-site state-of-the-art crushing/sizing system and then shipped to our customers. Eramet Marietta's customers are primarily steel companies – most of which are located within a 500-mile radius of the facility – making shipping a simple one-day truck haul. Check out our manganese infographic to learn more about the process.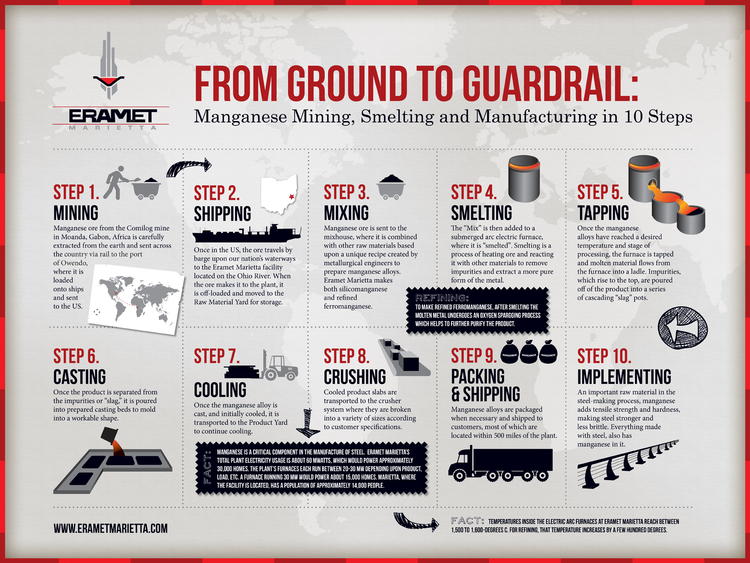 A subsidiary of Eramet Group, Eramet Marietta, Inc. is located in Marietta, Ohio. Currently employing over 150 people, the facility is recognized as one of the community's largest industrial employers and a vital link to the economic viability of the Mid-Ohio Valley. Founded in 1952 as the Alloys Division component of the Union Carbide industrial complex that at one time operated a multitude of facilities along Marietta's industrial corridor, the facility was sold to Elkem Metals in 1981 and finally purchased by Eramet Group in 1999.