Eramet Marietta is ISO 14001 certified.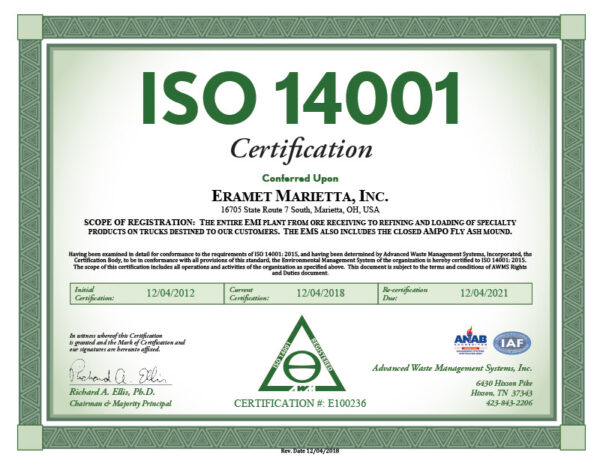 E

nvironment
Committed to being a good neighbour
Eramet Marietta is committed to being a good neighbour to prevent pollution, to reduce CO2 emissions, and to minimize our impact on the environment by complying with all applicable laws and regulations.
An ambitious decarbonization roadmap aligned with Eramet's goals has been launched.
Over more than 10 years, Eramet Marietta has invested $40M in energy efficiency and air quality projects, reducing fugitive emissions and captured dust. While compliant with local regulations, it's is preparing to replace its last wet scrubber with a state-of-the-art bag house. This will allow 100% of dry dust to be collected at the industrial site.
M

ethods

An environmentally minded workforce following proven methods and procedures that give each worker environmental responsibilities, including keeping a clean workplace, proper disposal of waste and preventing air and water pollution.
I

mprovement

Challenging ourselves to continuously reduce our environmental impact, and to improve our environmental management system through the review of our environmental aspects, risks, objectives and results.