E

ramet Marietta is ISO 5001 certified.

The ISO 50 001 standard is one of the main tools for measuring the energy efficiency of a company. The voluntary approach get result in 2021 when Eramet Marietta got its certification that "validate "its performance in terms of energy management.

To manage its global performance, a company focus on several objectives: costs, quality, safety, but also the environment and energy. Controlling energy consumption – knowing what you consume, predicting future consumption and optimizing it – is therefore essential.

To help decarbonise the industry and contribute to the fight against climate change, Eramet decided to give priority to certifying sites that consume more than 200 GWh per year, mainly mining and metallurgical sites. All the Group's sites are concerned by this certification process and will eventually have to implement tools based on ISO 50 001.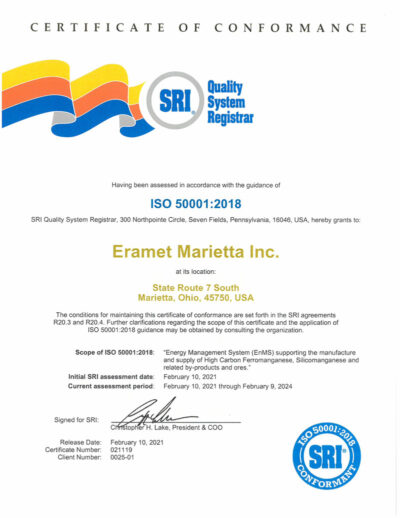 M

ethods

Utilizing standards, systems and procedures which will direct Eramet Marietta's projects and purchases toward lowering our energy costs and reducing our energy footprint.
I

mprovement

Routinely evaluating Eramet Marietta's energy performance versus an established energy KPI dashboard and identifying action plans for further improvement of consumption, unit cost and CO2 emissions.